Mining Truck Body Assembly & Rebuilds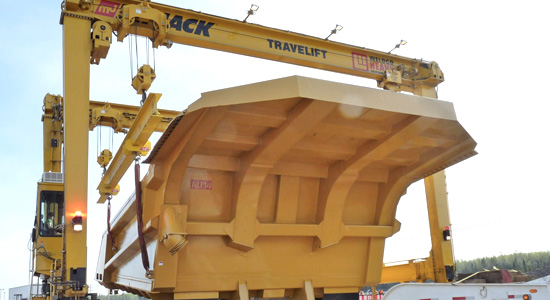 Weldco Heavy Industries assembles new bodies for mining trucks and refurbishes/repairs existing bodies for the current and future fleet trucks operating in the Oil Sands. The large size of these truck bodies requires work to be done close to the mining operations, as transportation on roads and highways is severely restricted.
Working in consultation with the customer, the work adheres to the strictest material grade requirements and welding specifications. Use of effective handling equipment ensures that Weldco Heavy Industries is capable of manipulating the bodies in a safe, efficient and cost-effective manner.
The facility is purpose-built to repair and rebuild large dipper buckets, hydraulic shovels and booms. As a Canadian Welding Bureau certified shop, our team is qualified to complete the work to the highest standards.
Steel repair and rebuild projects align with the capabilities and capacities of the operation. Weldco Heavy Industries accommodates the following types of projects:
Repairs of large capacity shovel buckets and track frames
Rebuilding crawler dozer blades, large loader buckets and mining truck frames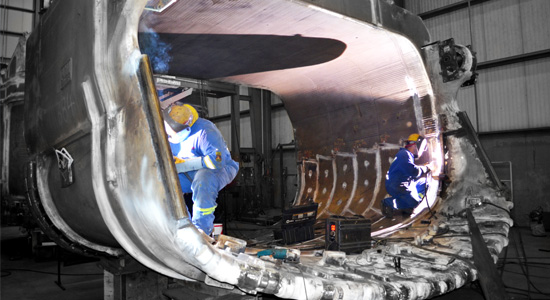 Steel Fabrication & Sales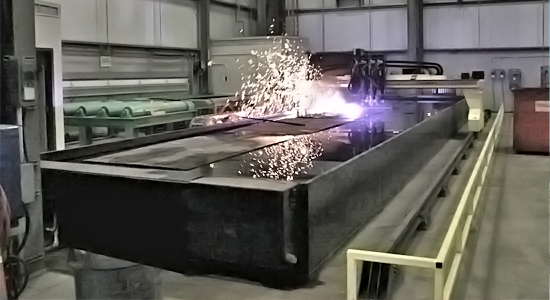 Weldco Heavy Industries fabricates large steel components for mobile equipment operating in the Oil Sands. From large press brake work to steel cutting and profile burning, Weldco services a diverse range of steel work, conveniently within the Fort McMurray region.
In addition to our comprehensive inventory of heavy-duty structural steel, mild steel plate, and wear plate for the ultimate payload and enhanced service life, we have the ability to fabricate steel according to customer demands. Our 2000 Ton CNC press brake, a large plasma and gas CNC burn table support customers' forming and profile burning requirements.