Meeting the demand for custom cut and formed steel plate, Weldco Heavy Industries provides a variety of high quality steel plate products in the Fort McMurray region. With a dedicated inventory stored on-site, the local market has quick access to the steel that they need.
Our steel inventory includes quenched and tempered steels. Prominent steel brand names are utilized to promote enhanced wear performance of Oil Sands equipment and machines, increasing overall productivity. Our steel supply also allows us to manufacture lighter and more advanced products that are more competitive in the market.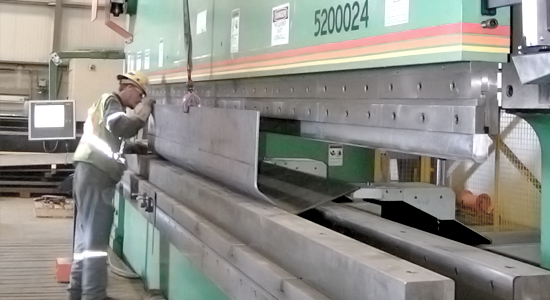 Weldco Heavy Industries is equipped with one of the largest press brakes in Western Canada. The 2000-ton press brake, with a 24' bed, offers CNC controls to provide customers with consistent and accurate forming. Heavier and wider steel that had to be shipped outside the province for forming can now be handled locally.
Customer requirements for custom cut steel are effectively handled with the CNC burn table. The three oxy-fuel torches can cut 8" steel and the plasma cutter can cut up to 1-1/4" thick steel. The burn table accommodates two full-sized steel plates on the 10' x 54' water table.